10 kms to the city.
Seconds to nature.
Imagine waking every morning to the sound of birdsongs, feeling worlds away from the hustle and bustle
of city life. Experience all this, and more, at The Henley. Only 10km from the Sydney CBD and ideally located
alongside Henley Park in the peaceful suburb of Enfield, The Henley comprises 70 architecturally designed by
DKO Architecture, residences that exude livable luxury. From the beautifully curated interiors to the detailed
landscaping across the property, every aspect of The Henley will make you feel right at home.
This is
Parkside Living
Light-filled and calm, The Henley's park locale belies the fact that the CBD is just 10 kms away. Each terrace home features grand spaces complemented by quality finishes and appliances. All residences have private courtyards large picture windows that fill the spaces with natural light, and an open plan that highlights the serene location.
The Henley is pet friendly, comes with dedicated security systems, and environmental touches such as EV charging stations. With a limited number of residences available, this is your chance to make The Henley your forever home.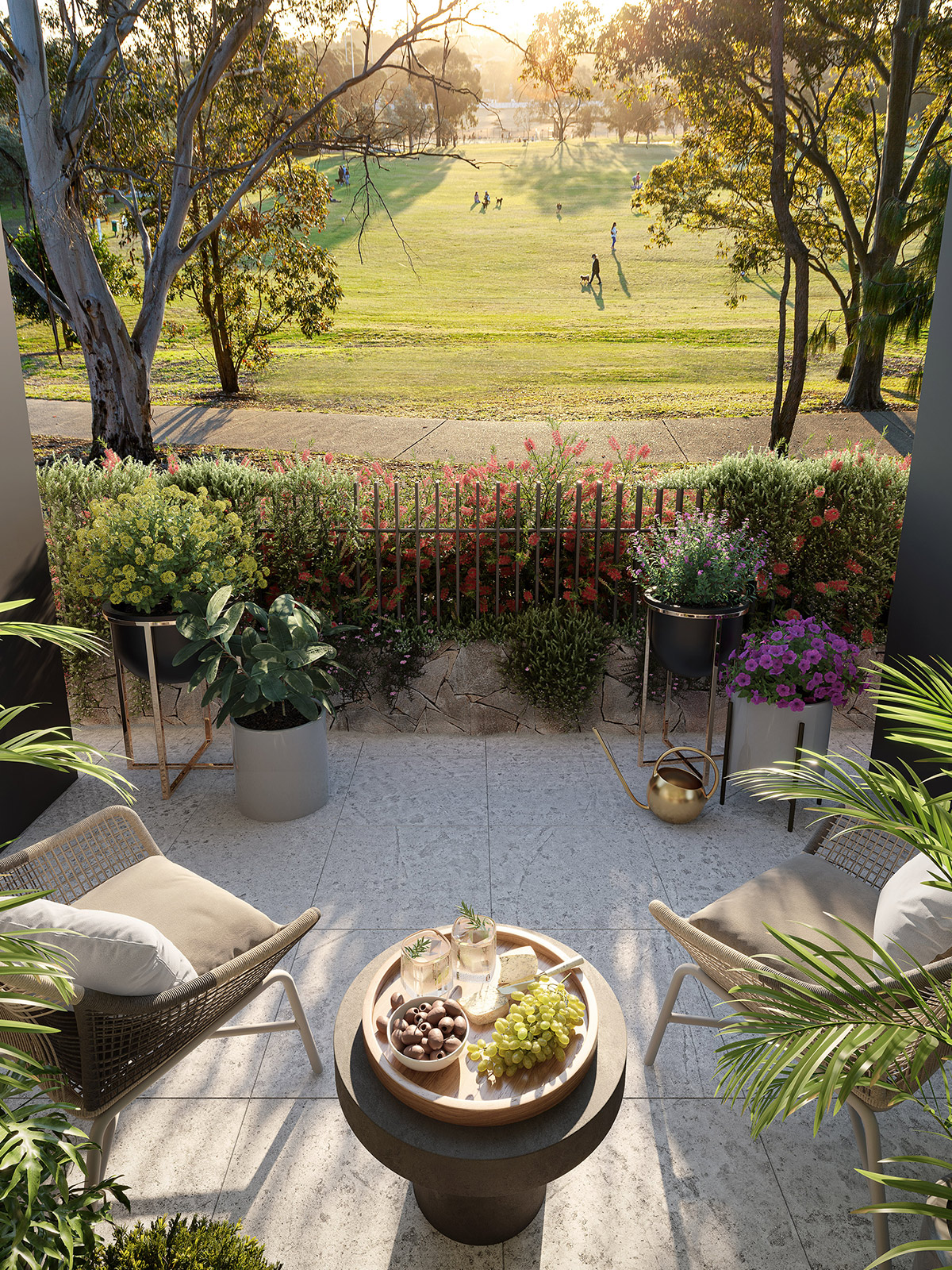 Artist impression
A front row
seat to nature
Run laps of the track that loops around the edge of the park. Throw
a frisbee across the vast ovals. Spread out a picnic rug under one of
many shady trees. However you choose to spend your time at Henley
Park, you're sure to be pulled outside to make the most of the green
environment on your doorstep.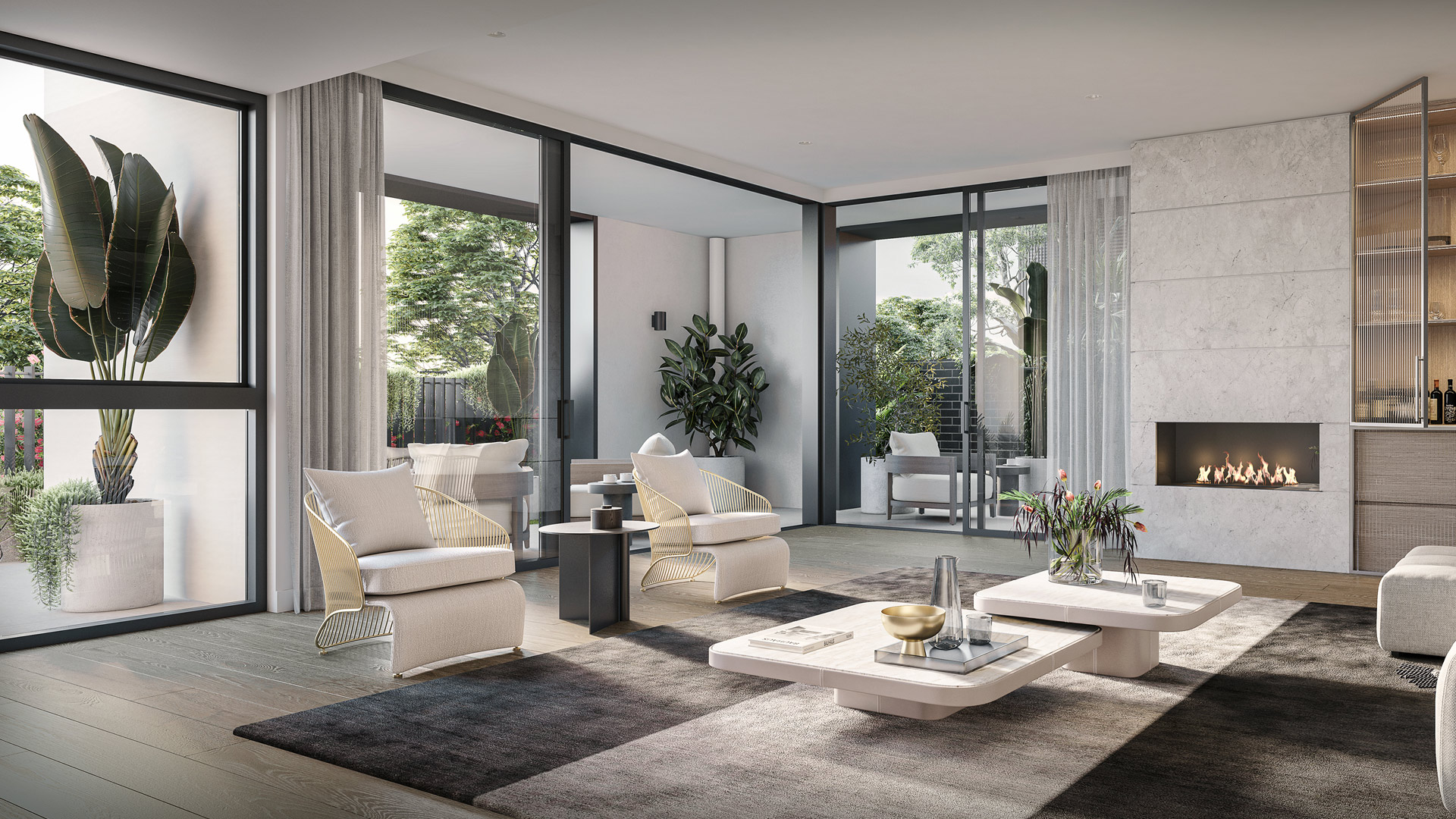 Artist impression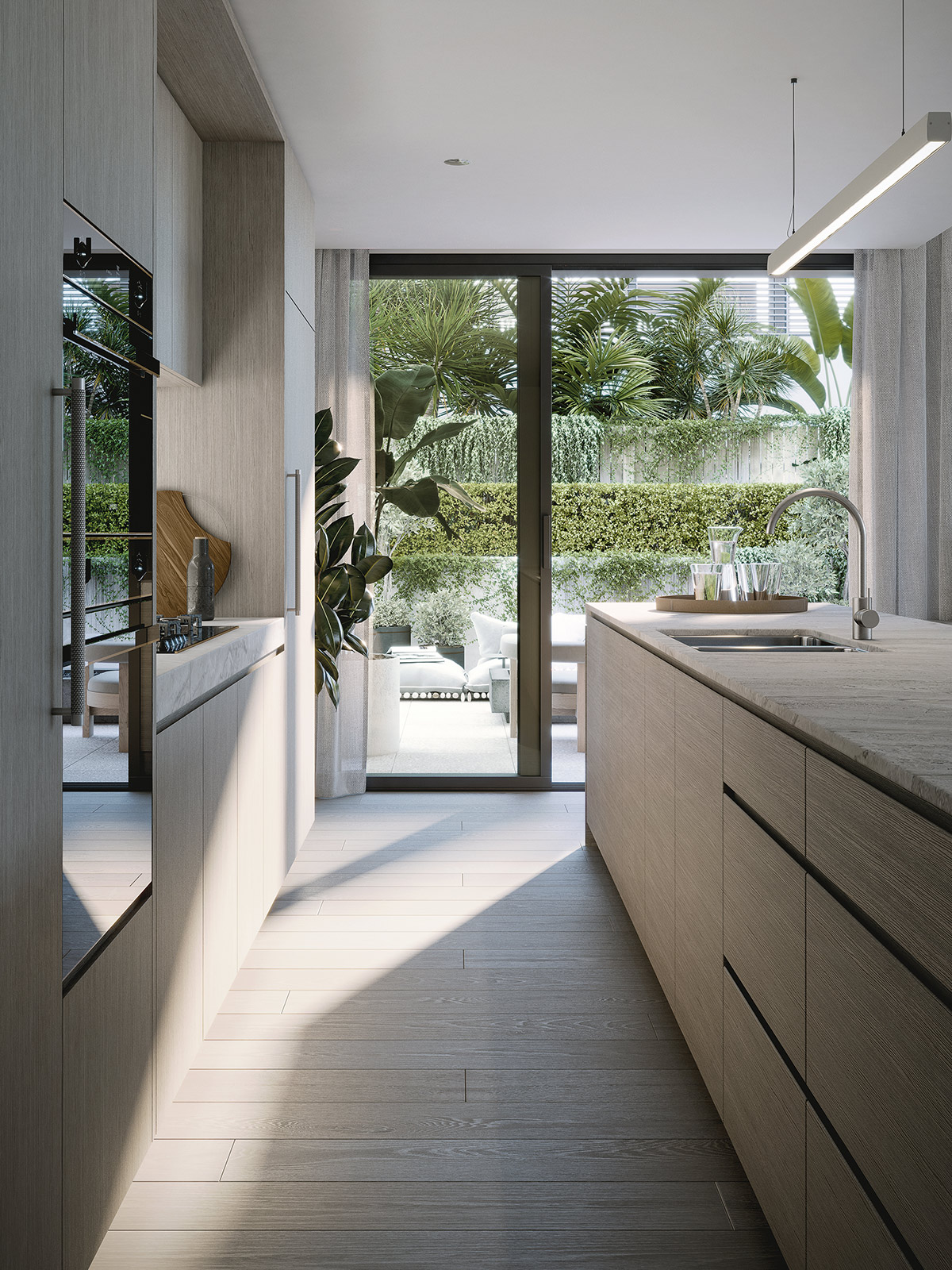 Artist impression
Exquisitely
crafted interiors
for livable luxury
The Residences at The Henley feel luxurious, yet unpretentious. Grand, yet
homely. Opulent, without being over-elaborate. Everything from cabinetry
and carpets to tapware and tiles has been carefully selected to
create a cohesive sense of livable luxury. The place you'll want to come
home to, every day. Inside, generous proportions and clever layouts make
every room feel more comfortable. Architectural features like curved walls
and glass-fronted cabinets add a touch of elegance. And, throughout,
choose from a palette of light or dark finishes to create an unobtrusive
canvas upon which you can add your own, uncompromising style. Immense
thought has gone into cultivating a true sense of place, reflected in The
Henley's authentic palette of refined materials.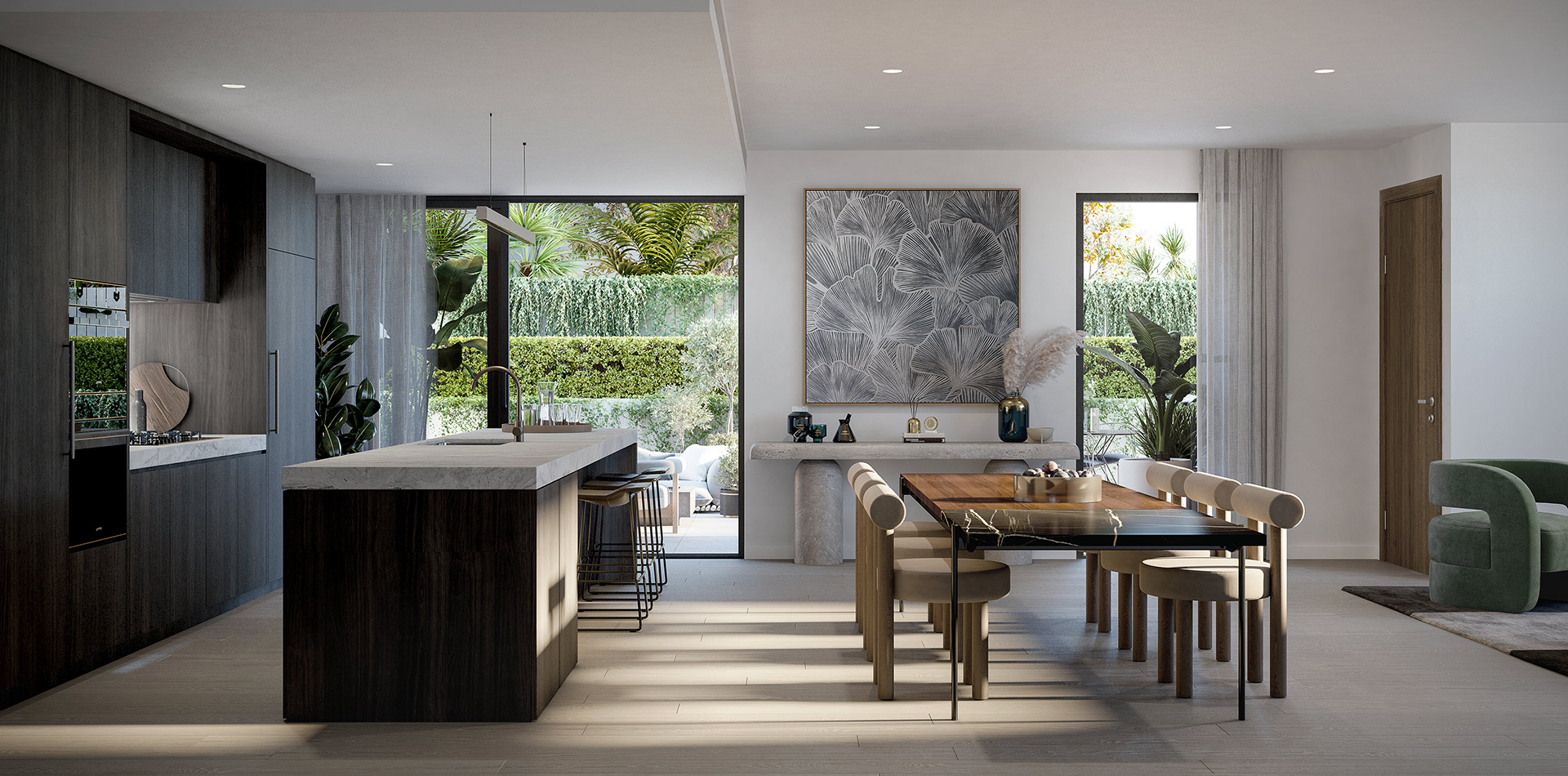 Artist impression
Kitchen
Finishes.
The kitchen is the heart of The Henley home. Your family can gather around the bench to swap stories, share recipes and create memories. And, when you're entertaining, the open plan layout means that you won't miss a beat, even when you're watching the souffles rise in the oven.
Featuring plenty of storage and quality appliances – including Smeg cookware and Brodware or Phoenix fixtures and accessories – the kitchen is both practical and functional, stylish and sleek. Easy to keep neat and tidy throughout the day, and a joy to spend time in.
Artist impression
Bathroom
Finishes.
Impeccably designed and generously proportioned, the ensuites and main bathrooms are a relaxing haven in which you can wash away the day's cares. The Henley Residences feature quality Brodware or Phoenix fixtures throughout.
All bathroom layouts include stylish touches – like curved walls in the shower recesses, freestanding baths and elegant tapware – to further reinforce the feeling of luxury.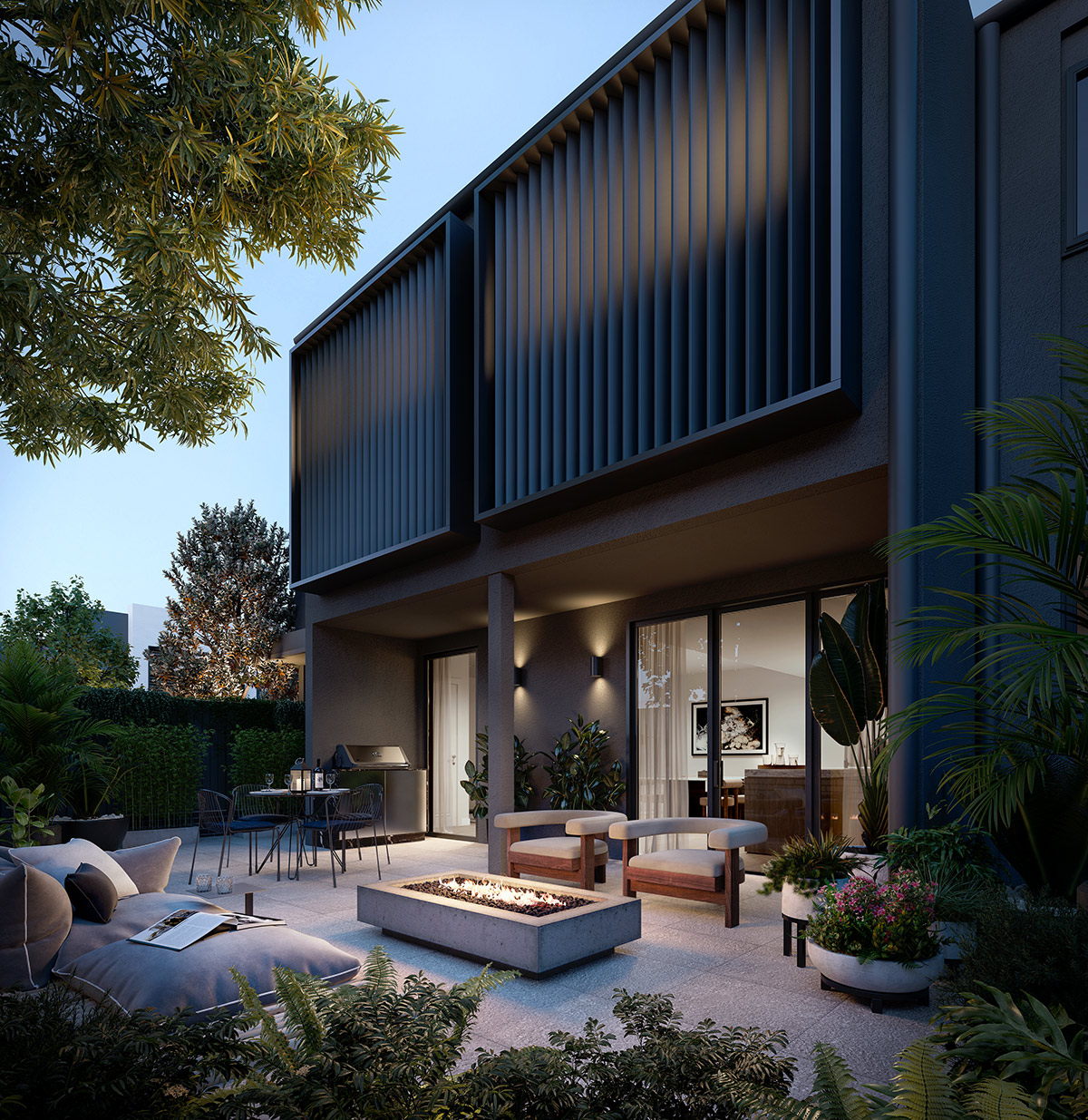 Artist Impression
Your private
outdoor
sanctuary.
Inside, they embody comfort and style. And outside, with both
private courtyards and a backyard as big as the parkland
beyond, you'll feel like you live in an urban oasis. Discretely
enclosed, they are perfect for entertaining or simply enjoy a
quiet moment in the sunlight in this secluded sanctuary. The
materials palette is bold and texturally rich, offset by vibrant
greenery which brings a soft, natural quality to the spaces. All
are architecturally designed to create the sense that you have
come home to an exclusive and private enclave.
ENQUIRE BELOW OR
VISIT OUR SALES DISPLAY